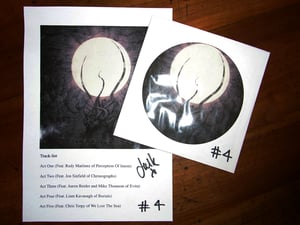 £

5.00
Flood the Sun EP
Limited edition EP with only 25 units made. EPs will be sent in order on a first come first serve basis.
Track-listing
Act One (Feat. Rudy Martinez of Perception Of Intent)
Act Two (Feat. Jon Sinfield of Chronographs)
Act Three (Feat. Aaron Beider and Mike Thomson of Evita)
Act Four (Feat. Liam Kavanagh of Burials)
Act Five (Feat. Chris Torpy of We Lost The Sea)
Total Play time: 22:25
Shipping included worldwide.
All CDs are signed by me (Jack) and will never be reprinted.