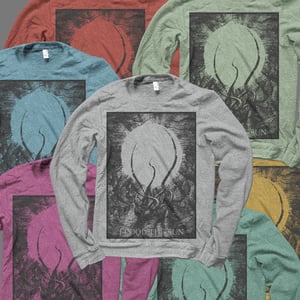 £

15.00
MAKE YOUR OWN MERCH
Flood The Sun EP Artwork design. Pre-Order only.
Crewneck Jumpers and Hoodies, are available in either Gildan or American Apparel. Zip-Hoodies due to price are in Gildan only. However, if you are passionate about an AA zip Hoodie, email me with the email found below.
Crewneck jumpers will be printed as shown, hoodies and zip hoodies will have an A3 print on the BACK of the garment.
All garments are available in any size (S, M, L, XL) as well as any colour suitable for the black A3 print.
Once you have done your shopping, decided on your desired colour, size and checked out. Email floodthesunuk@yahoo.co.uk with your custom specifications.
When purchase is confirmed I will email you a conformation saying that you have paid and that I have recieved what colour and size you want.
Pre-order ends May 31st.
Be sure to either use your 'Paypal' email or include the cardholder's name for proof of purchase when specifying your colour and size. If I am not contacted by you, you will receive the garment in white, medium.